Mainfreight Europe synchronizes Global Address Lists with GALsync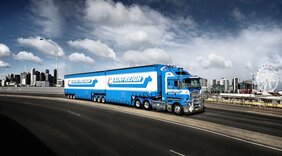 "I don't think there is any other solution on the market that can synchronize global address lists over different environments as easily as GALsync does. Now global Mainfreight team members can easily contact and coordinate with each other when it comes to dealing with international customer projects", says Rob Verheijen, European IT Manger at Mainfreight Europe in our new case study.
The global logistics service provider has over 290 branches in 26 countries. As an expanding company, Mainfreight is constantly acquiring companies in order to integrate them into the group. Our GALsync solution allows Mainfreight to quickly and securely exchange address book contacts and calendar data between two domains without having to merge the Exchange systems.
Click here for the case study in PDF format.
Back to news overview